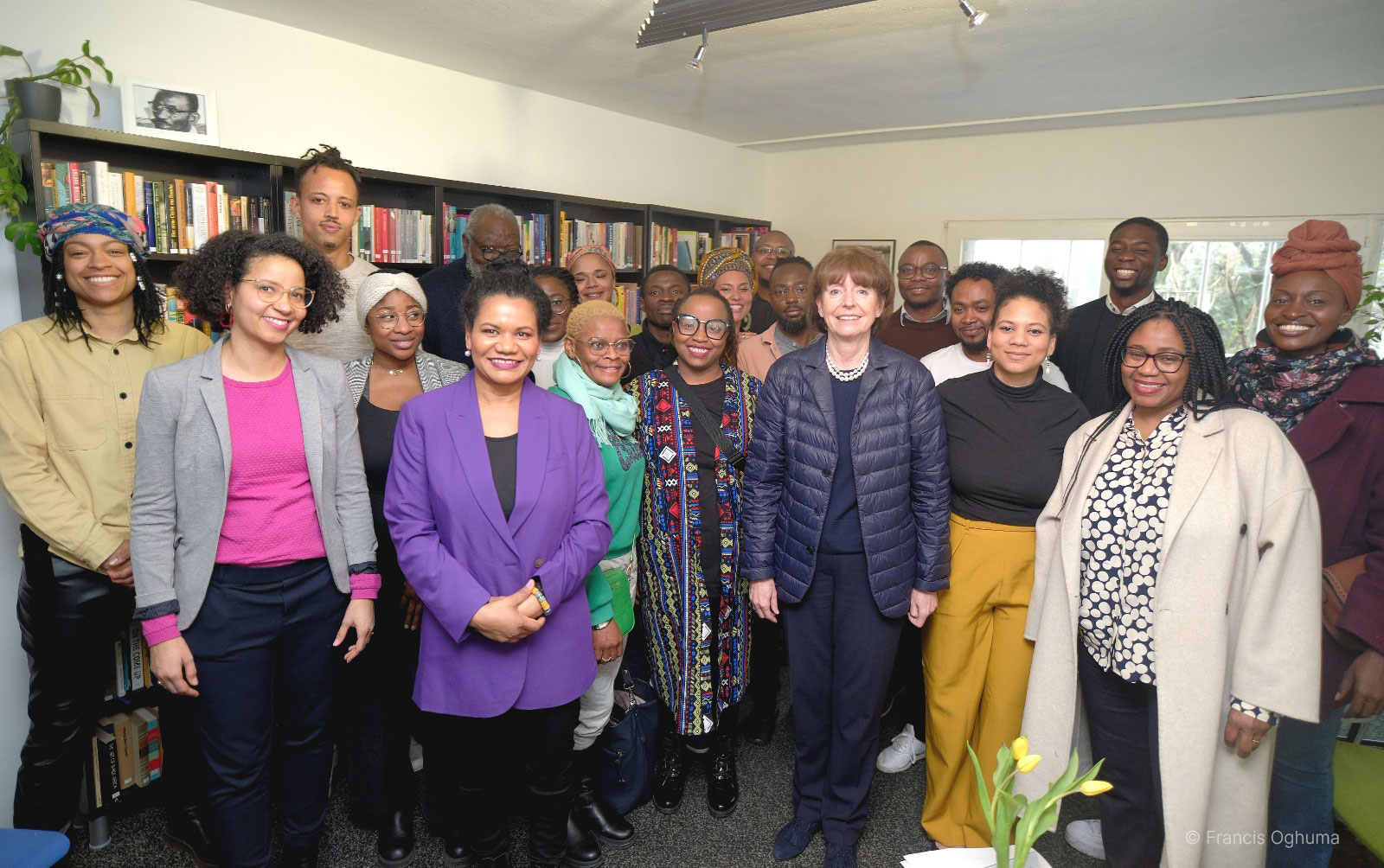 African Futures – Together on the Way (Program at RJM on 03.06.23)
The program within the framework of African Futures at the Rautenstrauch-Joest-Museum and the FORUM Volkshochschule offers two days of information and entertainment on various sections and topics of "African Futures": panel discussions, performances, readings, exhibitions, roundtables, consultations, dance performances and much more. The program primarily involves initiatives from the African communities in Cologne, which will present their views and issues under the motto "Together on the Way".
Illuminated are the opportunities that arise from the complexity and creativity of modern Africa. The program also provides insights into the broad engagement of African diaspora groups. At booths, the associations and initiatives provide information about their work or offer their own products.
The atmosphere and cultural entertainment will be provided by Agwaan, Varinia Akua, Naiyango, Dessa Ganda, DJs Omz'B from Gambia and DJ Steven Tingling from Jamaica, among others.
Children can listen to African storytelling, attend workshops such as Black Hero:in, have their face painted, or learn about sustainability in the open workshop and make their own items such as bracelets or cards.
Program 03 June 2023
11.30-18.00 Information stands in the foyer
12.00-13.30 Collective Spaces of Mourning? A Round Tables Experiment (FORUM Volkshochschule)
12.00-13.30 Development cooperation of the association Dako e.V. (library)
13.35-13.55 Music by Varinia Akua (Foyer)
14.00-15.30 Community Organising and Activism (FORUM Volkshochschule).
14.00-15.30 FAIR-TOWN and the SDG'S – An expert discourse on the urban sustainability concept "FAIR TOWN" (library)
14.00-15.30 Awareness and Empowerment in Education (Seminar Room).
15.30-15.50 Decolonization of Thought (Kitchen).
16.00-17.30 Europe-African B/or/ders – Back to the Future (FORUM Volkshochschule)
16.00-17.30 What does it actually mean to be "African" (Kitchen)
17.35-17.55 Music by Agwaan (Foyer)
18.00-19.30 Story, Desire, Belonging, Future: Towards Pluriafricanism? Reading and discussion with Kenyan author Yvonne Adhiambo Owuor (FORUM Volkshochschule)
A children's program will take place throughout the event.
Organizer
City of Cologne
The event is sponsored by the City of Cologne and the FORUM Volkshochschule.
African Futures – Together on the Way (Program at RJM on 03.06.23)
Language:

Deutsch/Englisch