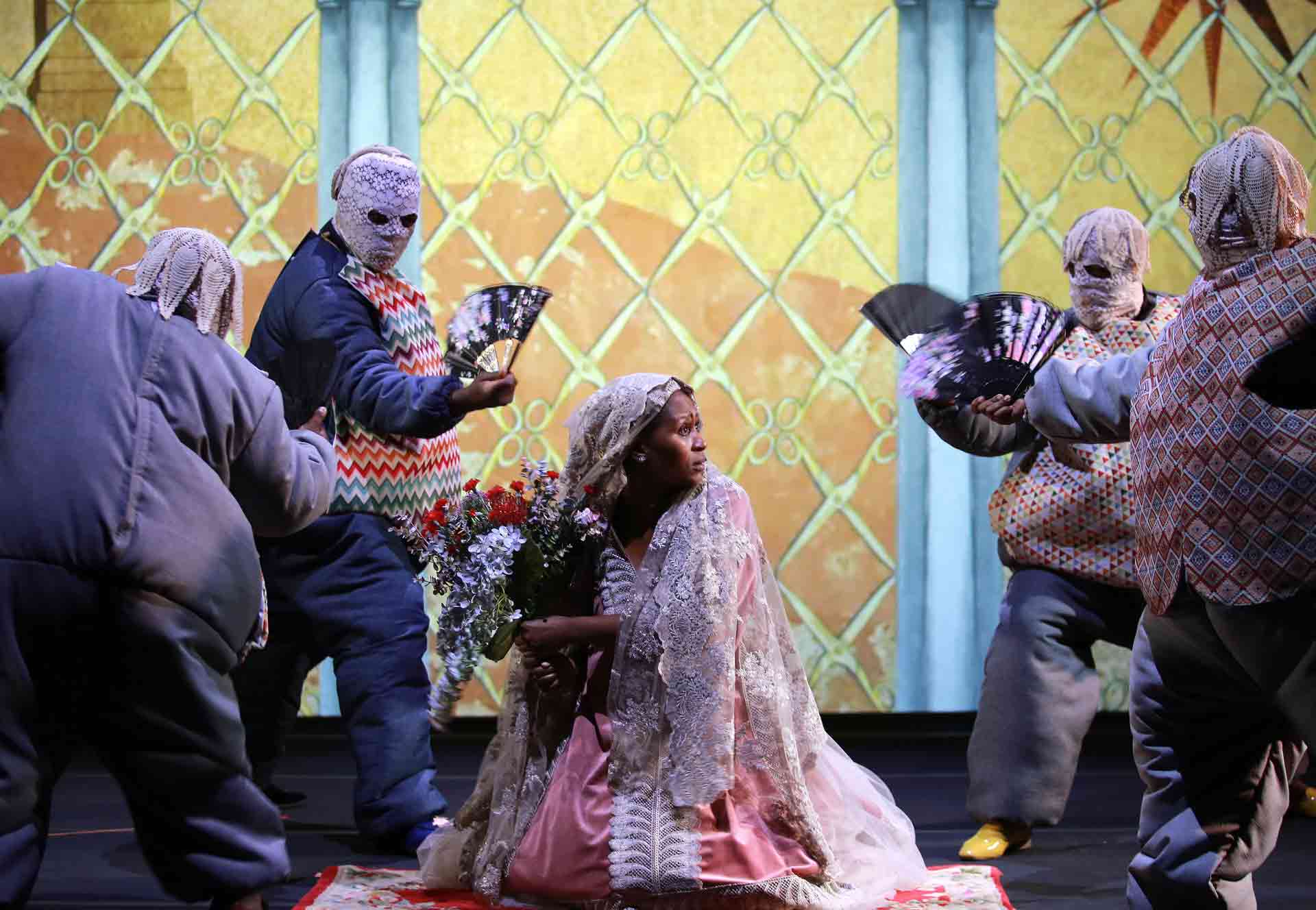 In times of intolerance and polarization, Samson, a young man with a hero's mission, channels the rage of his oppressed population and exerts terror on the people he blames for their oppression. As the body count rises, he is educated and ritually castrated by Delilah – an enemy agent. His brutal punishment in the custody of the authorities drives him to a suicidal act of devastation….
Brett Bailey rips the popular biblical myth of Samson and Delilah from its religious context and transplants it into a dystopian contemporary landscape of unbridled capitalism, human displacement, xenophobia, and violence. It asks us to reflect on the historical injustices and suppressed rage that so often underlie inhumane acts of terror. Samson is a deeply moving musical theater production to which Shane Cooper, one of South Africa's most influential musicians, has composed a stirring live electronic score. The cross-disciplinary work includes opera, choral singing, a tight ensemble and stirring video scenography by Brett Bailey.
"My interpretation brings the biblical story into the 21st century and places it in the context of my concern with migration, xenophobia and racism, nationalism, insurgency, and colonial and neoliberal politics." (Brett Bailey)
The production premiered in South Africa in 2019, played at the Festival d'Avignon and the GREC Festival in Barcelona in 2021, at Nanterre Amandiers, France, in January 2023, and at the Kerala International Theatre Festival, India, in February 2023.
SAMSON won Best Musical Theatre Production and Best Direction awards at South Africa's national theater awards, the Kyknet Fiestas, in 2020, and was nominated for Best Production, Best Design and Best Costumes. The piece was one of the 6 winners of the worldwide musical theater competition NOW! 2021. Competition.
PERFORMERS:
Apollo Ntshoko – ensemble
Cebolenkosi Zuma – Samson
Hlengiwe Mkhwanazi – Delilah / ensemble
Marlo Minnaar – narrator
Zanele Mbizo – ensemble
Nkosenathi Koela – percussion
Thukela Maka – ensemble
Zimbini Makwethu – ensemble
TEAM
Brett Bailey – text / director
Shane Cooper – musical director / composer
Jonno Sweetman and Mikhaela Kruger – musicians and vocals
Elvis Sibeko – choreography
Brett Bailey + Tanya P. Johnson – scenography
Kirsti Cumming – videography
Kobus Rossouw – lighting design
Nicolaas De Jongh – technical production manager /re-lighter
Carlo Thompson – sound design / sound engineer
Miliswa Mbandazayo – stage manager
Barbara Mathers (Third World Bunfight) – producer
Flee Willems (Quaternaire) – producer
German premiere and performances in Cologne as part of the africologneFESTIVAL
Thurs., June 1, 2023, 20:15 Opening africologneFESTIVAL, followed by the screening of SAMSON
Fri., June 2, 2023, 6:30 p.m.
Duration approx. 1 h 40
Languages English, isiXhosa, Zulu and French Aria with German surtitles
Tickets exclusively via https://www.qultor.de/veranstaltungen/samson
Organizer
Language:

English, isiXhosa, Zulu and French Aria with German surtitles

Duration:

approx. 1 h 40